All-Volunteer Theatre Enriches Somerville Arts Scene: Featuring Theatre@First
Theatre@First is a very special organization, always working to expand the definition of community theatre. We engage individuals and organizations throughout the community to create affordable, quality theatre in local spaces.
Since our founding in 2003 we have performed more than 30 mainstage productions, as well as a series of staged readings, and a number of special events such as SomerVaudeVille, a variety night showcasing the many talents of our participants and guests. In 2011 we brought free Shakespeare to Seven Hills Park in Davis Square for the first time. And we work to give back to the community, raising money to end violence against women with our production of The Vagina Monologues and to change our culture of bullying with performances of The Bully Plays.
Beyond our theatrical work, we also focus on community building. In our first 10 years we've worked with more than 500 volunteers, with more than 100 each year taking part in our productions. On average, we cast 50 percent new people in each show. At the same time, we have a strong and growing core of people who work with us year after year. Our work requires not only actors but designers, crew and support staff (accounting, publicity and project managers) to work together.
Theatre@First's Greek soldiers KyOnese Taylor, Chris Mason and Santiago Rivas in its production of "Trojan Women."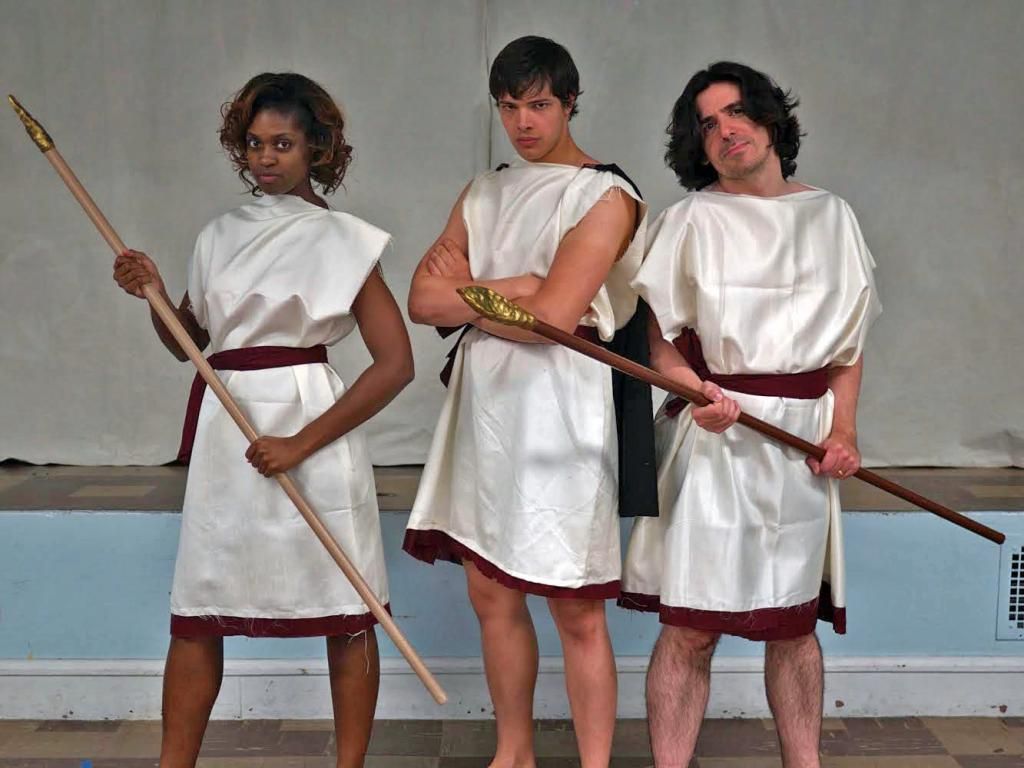 Somerville is a phenomenal home for Theatre@First. When we began, there was no ongoing community theatre in Somerville and very little performing arts in a city that prides itself on its artistic community. The constant influx of recent graduates, drawn here from all over the world, and their incredible talents and skills have made Theatre@First possible. We have been able to perform in several local venues and helped to support and invigorate those organizations in turn.
Our home base is Unity Somerville, which provides space at very reduced rates in order to support our work; we rehearse there throughout the year and often stage our performances in their hall. Unlike most theatres, our income is generated almost entirely through ticket sales, with some additional donations and sales of program ads to local businesses. The intelligent engagement of the Somerville audience with our work is one of the great resources of this community and has been essential to our success over the past decade.
Unlike many theatre organizations where shows are chosen for the entire year by a committee of readers with directors hired to lead them, each Theatre@First show is the dream of someone in our community. With that vision to guide us, we maintain a sense of excitement and engagement as we collaborate to make those dreams a reality.
Act 1: Volunteer; Act 2: Meet Fellow Volunteer; Act 3: Get Married!

Taking part in Theatre@First is a great way to meet people. In addition to the innumerable friendships and relationships that have sprung up between our volunteers, we have celebrated several marriages of people who've met through our work and welcomed their children to our community. When two of our volunteers Mike and Kerri met in 2004, he knew they would be a perfect couple. They played Rosencrantz and Alfred in a production of Rosencrantz & Guildenstern Are Dead. But there was a small problem: She was already in long-term relationship. Mike was patient, becoming a good friend, hosting casual movie nights and biding his time until eventually they got married four years later. While they've been too busy with their two little girls to reprise their roles in the 2014 production of Rosencrantz & Guildenstern Are Dead, we were delighted to have them in the audience and look forward to getting them both back onstage someday soon!
Trojan Women's Kerry Anne Kilkelly and Andrea Aptecker performing in Somerville, MA.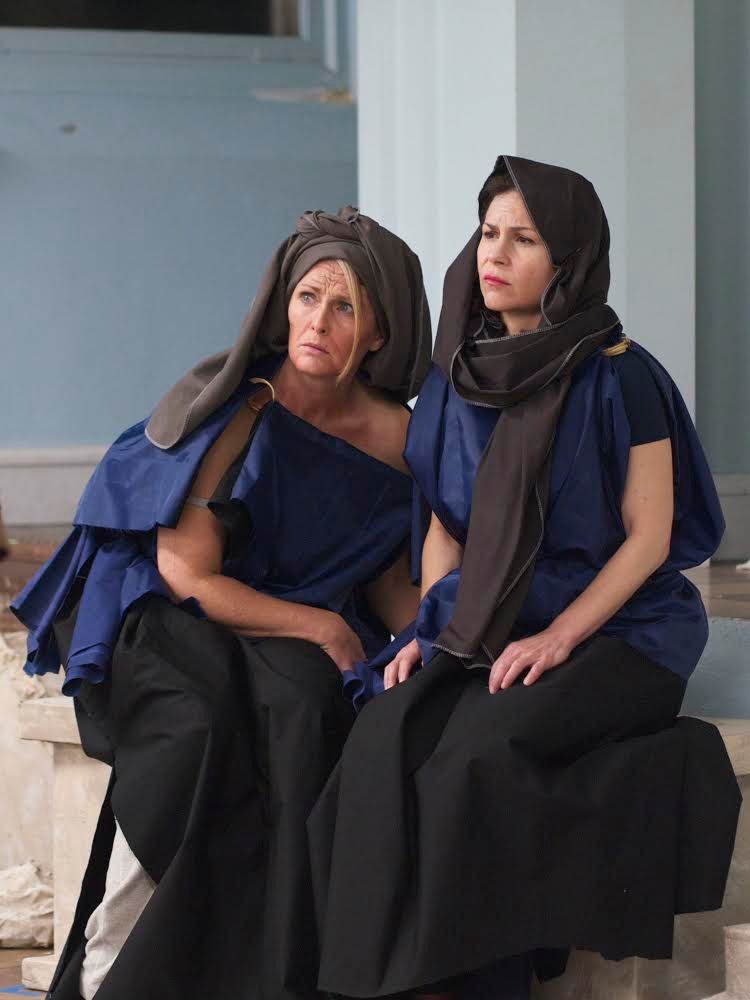 We have annual playdates and barbecues that give our participants opportunities to stay connected with people beyond the team working on each show, even when their time does not permit them to be involved in the latest productions. We support one another through the changes in our lives, offering rides, food and whatever other help we can provide to those in our community weathering personal issues, medical crises, loss and grief. We have helped people find new jobs and make positive changes in their lives. We even bailed an actor out of jail once for a performance!
Everyone involved in our shows is a volunteer. We encourage members of the community to learn new skills, rediscover old talents and amaze themselves with what they can accomplish. We value our volunteers' time, offering both mainstage productions that require preparation over the course of several months, and staged readings, which are generally performed with just four rehearsals, no tech to assemble and no lines to learn, so that everyone has opportunities to fit theatre into their busy schedules. We work hard together but always strive to make the work fun for everyone involved, including our audience.
Theatre@First prides itself on the quality of our productions and the talents of our volunteers. Some of our participants have previously worked in professional theatre, left that world and only rediscovered their love for theatre through the joy of working together in community. Others have never acted before and found a well of creativity that has made these newcomers some of our most popular actors. And it's not only onstage that new talents are discovered. We've taught volunteers to use power tools from circular saws to sewing machines, collaborated with local artists to create innovative set designs, and recruited passersby to join our painting parties. You don't need experience to be a Theatre@First volunteer, just curiosity and a willingness to explore your own abilities in the company of other volunteers.
---
Theatre@First's next show is Agatha Christie's The Mousetrap, a classic mystery and the longest running show in theatre history! Please visit theatreatfirst.org for more info.
About the play: A grisly murder has taken place in London and the suspect is still at large. A young couple ready to start their new lives as ​the hosts of Monkswell Manor guest house are warned by police that the murderer is heading their way. With their new guests arriving, a snow storm trapping them inside, and an enterprising detective on skis, the hunt is on to uncover who the murderer is before they have a chance to strike again​!
​Mark your calendar now for the performances: February 27 - March 7, 2015 at Unity Somerville​, 6 William Street, Somerville, MA 02144.

Theatre@First
13 Park Avenue
Somerville, MA 02144
1-888-874-7554
theatreatfirst.org